Klaviyo Complete Coverage
Full Klaviyo setup, design and integration of 24 emails + SMS marketing for $3,999
This all-inclusive, full setup is designed for ecom owners to automate processes, boost sales, and create a deeper connection your audience.
We create high converting ecommerce email and SMS marketing campaigns
Our email & SMS flows include custom design work, copywriting and a marketing strategy.
First, we'll identify your key product features, imagine questions or issues a potential customer may have before making a purchase, and break down the barriers to purchase in a fun, engaging and story-telling way.
Next we'll create templates and style reusable blocks so you can mix and match to build your own varied layouts from campaign to campaign.
We use Klaviyo's powerful technology to segment and personalise your buyer's experience to get them to come back, review, refer, share, and become long-term brand advocates.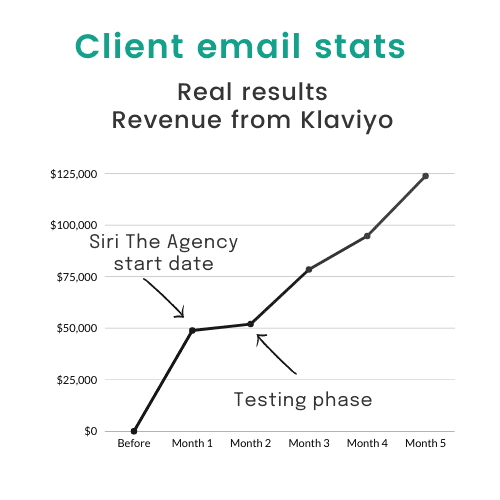 This comprehensive setup is created to implement a sales machine running for you in the background. Data-driven insights, creative vision and powerful automation fuse together to create email solutions that convert.
By hiring an expert you'll receive best practices and insider tactics to boost your growth and community. 
In this ultimate set-and-forget email and SMS strategy we'll set up 24 emails plus 3 texts in total and we'll take care of:
A deep-linked integration with your Shopify website and making sure emails go into the right lists via audience segmentation
Design and modify all templates to match your branding
Style the update email preferences pages and forms to match your branding
Custom subject lines for a high-open rate
Copy to reflect the correct message to the segmented customer

Enable Klaviyo SMS

Update your T&Cs and privacy policy

Create an SMS subscribers segment

Update SMS subscribers

Update old signup form

Collect SMS consent at checkout

Send 1 email asking current subscribers to signup (if applicable)

Responsive pop-up on website (if preferred)
Move to single opt-in without email confirmation (if preferred)
You'll also receive a BONUS 30-page guide with info, tips, tricks and tools on how to take your email marketing to the next level.
We'll create personalised and segmented automated emails and SMS (texts) to communicate strategically with your customers every step of their buying journey.
3-part Segmented Welcome Drip (Pre-Purchase Nurturing). This will be automatically sent when someone signs up to the email list (but haven't purchased). Over the course of two weeks the subscriber learns about your unique value proposition, your products, and your business, plus an offer to push to purchase.
3-part Multi Day Abandoned Cart Sequence. Designed to capture your potential customer's attention and bring them back into your sales cycle. We'll surface problems or questions your prospects might have and present offers the right way to maximise conversions.
2-part Winback Series. A reminder + special offer email to retain your customers and extend their lifetime value by generating return purchases. 
2-part Post-Purchase Nurturing Flow. Triggered after the customer completes checkout. Includes brand story introduction for new customers with pre-arrival excitement followed by a second email to collect social proof and cross-sell. This email is intended to maximise your chances of getting brilliant customer reviews that help you boost future sales.
2-part Browse Abandonment Series. If an existing subscriber browsed a product multiple times, but didn't buy or initiate a checkout we'll gently touch base with them. We use these emails to demonstrate the value and features of the products they were viewing, and suggest similar or best-selling products.
Site Abandonment. If someone subscribes but doesn't take any further action and leaves your site, we will work on getting them back by sending them a limited time exclusive offer.
Post-Purchase Bounce Back Email. A bounce back email is an offer given to customers immediately upon purchase designed to "bounce that customer back" to the store at a future date. Automate it in Klaviyo, and it should generate incremental profits for you forever. Bounce backs work amazingly because they play off of recency.
Upsell Flow with 3 emails. Utilising the smart data available we can target someone who has purchased X that might also be interested in Y. For example, if they buy a make-up product in a red colour, they might also be interested in a pink product. Or they have purchased a kid's size 000 onesie, chances are their kid will need the next size up in 3 months' time. This email flow will be built on segments and includes well targeted custom copy.
VIP Email. This emails will focus on the big spenders and send them a special offer to keep rewarding them for their loyalty.
Segmented 2-part First Purchase Anniversary. This split flow is sent to subscribers to celebrate purchase anniversaries. This will be segmented into people who have purchased in the past year and reward them with a higher discount vs one email with a lower discount to people who haven't ordered since their first purchase in order to win-back customers.
Birthday Email. Treat your customer with a gift on their special day. This email will be sent out on their birthday (if collecting this data) each year.
Sunset Cleaning Campaign. A crucial part of email marketing is keeping your list healthy and responsive. It's hard to wave goodbye to your subscribers, but inactive contacts must go. The good news: this task can be automated while trying to reactivate and salvage as many subscribers as possible.
BONUS! Newsletter Template. A drag and drop template with pre-created blocks and custom GIFs to use for all your future newsletter campaigns.
Exit Intent Offer Popup. This popup will be shown when the visitor is about to leave your website. It will show a discount or offer as an incentive to stay and make a purchase. 
Discover All Our Klaviyo Services
If you're not sure this package is right for you, then check out another one below or contact us for a custom deal.
Disclaimer: Prices are excl. GST and exclude your Klaviyo subscription fee.
We have helped many people and businesses from around the world. Let them do the talking for us.
"Siri and her team are extremely professional and know exactly what they're doing. Their copywriting skills are top-notch and they have a great understanding of Klaviyo and how to build flows that work perfectly. We couldn't be happier with their service!

One of the things that I really appreciate about Siri and her team is their attention to detail. Every change we've made has been thoughtfully considered, and their feedback has always been spot-on. Overall, I highly recommend them!"