Klaviyo Ecommerce Essentials
Setup, design & copy x6 emails for $949
Implement your email automation engine following best practices.
We create high converting ecommerce email marketing campaigns
Our email flows include custom design work, copywriting and a marketing strategy.
First, we'll identify your key product features, imagine questions or issues a potential customer may have before making a purchase, and break down the barriers to purchase in a fun, engaging and story-telling way.
Next we'll create templates and style reusable blocks so you can mix and match to build your own varied layouts from campaign to campaign.
We use Klaviyo's powerful technology to segment and personalise your buyer's experience to get them to come back, review, refer, share, and become long-term brand advocates.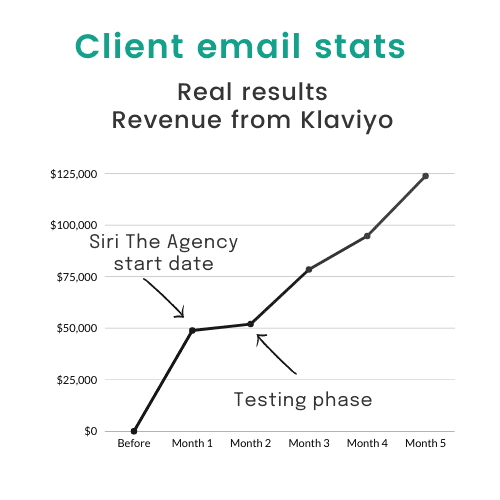 This ultimate basic setup lays a great foundation to get your sales engine up and running. Data-driven insights, creative vision and powerful automation fuse together to create email solutions that convert.
In these 6 powerful set & forget emails we'll take care of:
A deep-linked integration with your Shopify website and making sure emails go into the right lists via audience segmentation
Design and modify all templates to match your branding
Style the update email preferences pages and forms to match your branding
Custom subject lines for a high-open rate
Copy to reflect the correct message to the segmented customer
Responsive pop-up on website (if preferred)
Move to single opt-in without email confirmation (if preferred)
We'll create personalised and segmented automated emails to communicate strategically with your customers every step of their buying journey.
Welcome email. This will be automatically sent when someone signs up to the email list (but haven't purchased). The subscriber learns about your unique value proposition, your products, and your business, plus an offer to push to purchase.
Abandoned Cart Flow (2x emails). Designed to capture your potential customer's attention and bring them back into your sales cycle. We'll surface problems or questions your prospects might have and present offers the right way to maximise conversions.
Browse Abandonment. If an existing subscriber browsed a product multiple times, but didn't buy or initiate a checkout we'll gently touch base with them. We use this email to demonstrate the value and features of the products they were viewing, and suggest similar or best-selling products.
Post-Purchase Thank You & Review. Triggered after the customer completes checkout. Includes brand story introduction for new customers and a second email asking for feedback or review to collect social proof.
Discover All Our Klaviyo Services
If you're not sure this package is right for you, then check out another one below or contact us for a custom deal.
Disclaimer: Prices are excl. GST and exclude your Klaviyo subscription fee.
We have helped many people and businesses from around the world. Let them do the talking for us.
"We are extremely grateful to have found Siri and her wonderful agency. Working with Siri has helped us enormously by helping to upgrade our email flows to benefit our customers even more when shopping online with us. Thank you for all of your hard work!"
Jez from Rivercity House & Home